After years of sewing I managed to accumulate not only a small fabric stash, but equally small (big) fabric scraps stash that needs to be take care of fast! I do not like to get rid of any leftover pieces as I never know when will I need them….but let's be honest here….I do forget about it as soon as I finish my latest make. There are so many small projects that I really want to sew at the same time use some of the chunks of material reducing their amount substantially and making space for some more…..just kidding….maybe 😉
For a while now I want to make a full size quilt, but it seams like a giant project, that I simply do not have time for. But the longer I think about it,  the more I want it!!! I see so many beautiful quilt patterns and most of them are made of small pieces that would be ideal to bust that scrap stash, so I had decided to finally pick up one design ( for beginner quilter) and simply start cutting the pieces and slowly make my first quilt. I had to convince myself that it is OK to do it in stages instead from start to finish allowing me to make other projects in between. Great idea Monika!!!
To start my quilting journey it could be easier to make a smaller version first and make a set of pillowcases.
Sewing machine cover is another sewing project I have on my to do list. One of the reasons I want to make it is to simply protect my sewing machine and serger, but other also I think it just looks so lovely and would make my sewing corner even more colourful.
My laptop also needs a cover sleeve. Why spend money in the shop on a boring case if I can make it exactly as I want it to be? Right?
What about a camera bag? yes,yes,yes….. I can see how my leftover bundle is getting smaller and smaller….
The next scrap busting project is very small but is selfless one! Eye-mask for my partner that I make it on a regular basis and have fun by making it look different each time. I might do some embroidery on the next one too.
Oven gloves that are shaped like hearts…what??? That is so cute! Great for any home cook!
Quilted tote can be used not only as a  shopping bag, but a storage for a bits and bobs or simply as a piece of decor to brighten the room.
I am a bit old fashioned and still love to hold and read a book. Don't get me wrong audio books are great (specially on a busy London Underground ) but there is something special and tangible in holding a book. Most of the time I use a photo or piece of paper to mark the page I am currently on , but why not transform the smallest snippets of fabric into a beautiful bookmark?! This is such an easy and begginer friendly project. Also could be good to use some of my ribbons that I do not know what to do with.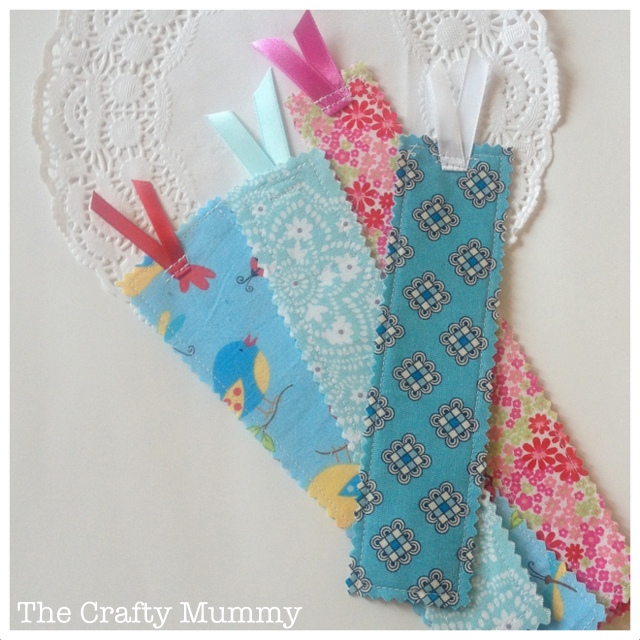 And last, but certainly not least a  pouch. It's small and cute and I can play with designs and colours on smaller scale. I think this is the best project to get me started busting my scrap stash and learning quilting.
~do you have any fun ideas to use all your fabric leftovers?
Monika xxx